Barvikha concert in "Izvestya"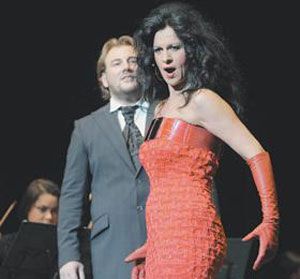 .
Thanks to Anatoly and a lot of digging, I finally found something about the concert in Moscow. It seemed impossible that nobody wrote anything. There was an article. Only one. Angela gave only one exclusive interview for "
Izvestya
" newspaper. The article is signed by Maria Babalova and it was published on September 15th, 2 days after the concert.
.
For those who speak Russian, the interview is
HERE
and
HERE
.
.
For the others, I tried to give a translation. No, I don't speak Russian. But Google Language does. This is the result. There are some [...]. For these sentences Google didn't make any sense. If anyone can help, please do it. If there's something wrong, correct it.
.
Draculetta with character. Superstar Angela Gheorghiu has shown also class
Angela Gheorghiu, the opera superstar, performed at the Barvikha Luxury Village. The well-known Romanian soprano has shown class, performing various arias from a large repertoire. Everybody was delighted.
In opera community she's sometimes called Draculetta. First because she was born in a small town, Adjud, East of Transylvania where, according to the legend, count Dracula lived. Secondly because she and her husband – the well known tenor Roberto Alagna – often led to despair conductors and directors. The couple was also called "Bonnie and Clyede" of the opera. Anyway, the two megastars face difficult times. They don't sing together on stage anymore, though in the passport Angela is still Alagna.
One day before this concert, Angela Gheorghiu was a special guest in the anniversary concert for Vladimir Spivakov, in the House of Music. She admitted she was very nervous: "it was a very difficult and responsible test to congratulate a collegue in such a solemn conditions and in the presence of the first ladies" (Svetlana Medvedeva, Naina Yeltsina and Bernadett Chirac). […]. Everything went on according to the program and in the end she was rewarded with 10 minutes of applauses.
In Barvikha Angela reigned the stage. Following the tradition, the audience arrived at the concert hall in Maybachs, Bentleys and Rolls-Royces. She performed arias from Verdi and Donizetti in a black dress. For Puccini she wore a fantastic, kimono-like, blue dress and in the end she appeared in a red dress. She proved a unique voice, faultless vocal techniques and acting talent. Together with her on stage there was the Romanian tenor, Marius Manea, and the Italian conductor Giordano Bellcampi who nowadays conducts the Danish Royal Opera orchestra.
It seems that in Barvikha people start appreciating not only the value of the goods in boutiques, but also the true value of the art. It's a pity that the star hasn't sung to much – only four solos and five duets, including the encore. But there are chances for her to return to Moscow in December. its lure is not in crisis fee of several hundred thousand dollars



Opera singer Angela Gheorghiu: "In love there are no simple decisions"



Being in Moscow, Angela Gheorghiu categorically did not wish to talk to the press. She made only one exception and gave an exclusive interview to a reporter of "Izvestiya".
.
Question

:Why haven't you came here for such a long time?


Answer

: I'm very sorry for this. I sand here sacred music in 1988 – in a church in Moscow. And Hotel Leningrad was the first I stayed in here in Russia. It was not as luxurious as it is now. I've never had such fantastic apartment in my life. I also came to Moscow 11 years ago. My friend Msatislav Rostropovich received a very important award from Roberto in the Great Hall of the Conservaroty. […]. Unfortunatelly one year ago I couldn't arrive for a concert with Dimitri Hvorostovsky. I know that Dima was upset but we'll sing together in Russia sometimes.
.


Q

: Why don't you perform more songs during the concert?


A

: I'm very careful with my voice. It's a part of me and if anything happens I can't replace a broken string as you can do with a violin or cello. It's necessary to know when to stop. Diamonds are not weighted in kilograms.
.

Q

: It's because of this care that you're talking about you cancelled "Carmen" with Roberto Alagna at the Metropolitan Opera?


A

: I will sing "Carmen" at the Met but another time and with another partner. I simply decided not to sing with my husband in the next years.

.


Q

: Why?


A

: Because in love there are no simple decisions. People after all are very selfish - if love someone you want he or she entirely, and only for yourself. It seems to me, it's very much the same in Russia.
.


Q

: What Russian thing do you appreciate?


A

: I like Turgenev. Dostoevsky is fine. […]. I love Russian cinema very much. I appreciate Nikita Mikhalkov. I've been watching his movies hundreds of times.

.


Q

: What you appreciate most of all in people?


A

: Ability to respect and accept others' decisions, without discussing them.
.
Q
: Often your decisions are not understand by your colleagues and create the reputation of the prima donna with improbable character...
A
: If you disagree with my decision, I simply won't get it. And if I have appeared on a stage it means that I have created comfortable conditions. […]. I should feel assured, free and in harmony with the environment.
.
Q
: When have you first considered yourself an opera singer?
A
: I've always considered myself an opera singer. I was told in school, by my parents and teachers. Even if there was communism, the education was magnificent.. Classical music - a fine medicine as a hobby. Last week I got a letter from Japan. A desperate mother told me about the mortally sick 16-year-old daughter who has never attended any of my performances, but likes very much to listen to my records. She asked me to send her a gift, anything. I sent her my new disk and a favorite shawl. Today I found out that the girl is not with us anymore. Her mother wrote to me that she died with a smile on her face, muffling up in this shawl...