Interview on TVR Cultural - part III - 22.10.2009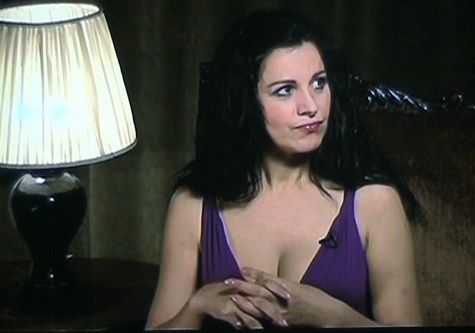 .
This is the third and last part of the interview, broadcasted on TVR Cultural on October 22nd 2009. We all found out a lot of new things, we stepped to "the other side". And it was beautiful. Thank you!
.
If you missed the other two parts or want to read the interview from beginning to end:
* part II -
HERE

* part II -
VIDEO
.
Audio of the third part in Romanian and the translation, below. I might get some video too, but I don't know for sure yet. So come back in a few days.
.
.
Good evening ladies and gentlemen. I'm Marius Constantinescu. I confess I wanted to have Angela Gheorghiu as guest for these three episodes not necessarily because she's famous, beautiful, worshiped and sometimes contested and one of the three best sopranos of the world. Well, yes… this was the reason. And all these arguments were important. But I find it very provoking to be in the company of a person always followed by tons of legends, impressions, stories and even prejudices that her personal history feed. I think the challenge is to find Angela Gheorghiu behind the label "Angela Gheorghiu" with everything it involves. This is what I tried to do.
.
You are Angela and Roberto. You are the soprano and tenor. You are the absolute duet in the opera. At the same time I play a little bit with words and also say "the duel". There are hundreds and hundreds of legends regarding the rivalry, in between inverted comas, between the soprano and the tenor for the love of the public, for applauses, cheering and celebrity. How have you managed to find an agreement in all these years?
Sometimes with diplomacy, with love, acceptance. It's very difficult because I can't talk about myself. Even if today I tell you all these things I think these were bigger issues for Roberto than for me.
.
Do you have the strength to accept when the other one's success is bigger?
Oh, God. This happened. But I don't mind. This can occur for the same performance, for me and Roberto, or when we sing with different partners. One night one of us receives more applauses, another night is the other… everything is so relative that I don't even bother. If you talk about jealousy, we have it at a personal level, as man and woman, and not at a professional level. But sometimes the personal level mixes with the professional one because we both have the same job. Roberto broke out in an interview for a British newspaper and you started to misinterpret the words here in Romania. For him it was very simple. He was jealous. He couldn't control himself even if he doesn't admit. We know the reasons. It's because we sometimes sing with somebody else. We both do this. It was that one time when he couldn't hold it.
.
Have you two ever gone on stage without being in good terms?
If we argued before?
Yes.
Yes, it happened. But the moment we stepped on stage we loved each other instantly.
And the love lasted for the length of the performance or also after it?
Also after it. It was true reconcilement. I don't play a part in my every day life. I don't pretend to be happy. Never. All these belong to me, only to me. When I have something against a reaction I show it. I tell him, he tells me. We don't pretend anything.
.
You'll be Carmen at the Metropolitan soon. What do you say to those who don't think you'll fulfill the expectations regarding this part?
I'm also surprised. I've never said I'm a mezzo, I didn't want it, and it was not the dream of my life to be Carmen. I recorded Carmen as you know because EMI and Roberto wanted it. The new director of the Metropolitan, Peter Gelb, used to work for Sony. When we first met he had a lot of ideas. He suggested I should do Carmen at the Met. Wow. That is too much.
4000 seats, large venue…
It's a large venue but it has the best acoustics of all opera houses in the world. I was surprised and then I said "ok, but I have a request. I need to find a reason in order to do it. I must have the director I want"
And you had him.
Yes, indeed. Richard Eyre. I haven't offended anyone. I have this privilege of being able to ask for a certain director. I really liked the idea of working again with Richard Eyre.
.
I have another curiosity. Do you think that you'll ever leave behind the Italian and French traditional opera repertoire and move on to Wagner or Richard Strauss?
Why not? Nobody thought of Wagner yet. I still want to preserve the freshness of the voice. I like some operas, arias.. some moments. I have something against this composer because compared to the greatness of the music he didn't have enough knowledge of canto.
He loved more the orchestra than the singers.
People talk about the magnitude, the volume and the length of the operas and other details. He's a genius. But for many reasons Wagner can't be preformed by young voices that sing lyrical parts at the same time. And I'm very sorry for that because his music is brilliant. I like Richard Strauss. I like Russian music too. I was invited to sing Rusalka or Evgeni Onegin. Only that I don't speak Russian, I don't understand it and it would be huge work. When I utter something I like to be understood. For me the essence is in the word. We know that every composed found inspiration in the words. They wrote music on top of words and not other way round. So pronunciation is essential. I like to understand what I sing, what I'm saying. Because I get help from this, I can have a certain state of mind, I can create the character. It's difficult in Russian. I'll give it a try but it's hard. I love Evgeni Onegin. It's an amazing opera. Once I had to cancel in Chicago because they said I have to sing 12 performances. I said 6, they said 12 so we had to let it go. I don't want to lose the freshness of a role. Actors might say I don't know anything about this. They have seasons with hundreds of shows. For me it's harder. I confess I don't have this ability. When I sing Mimi for two months and need a short break after that and something else instead.
.
Next season you'll also be Adriana Lecouvreur at Covent Garden.
Some time ago, I don't remember the year, I did La Rondine there. Well, it was supposed to be Adriana Lecouvreur. But I thought it would be better to switch, to do La Rondine first and after that Adriana Lecouvreur. It's a very difficult role. I see it very lyrical. I connect it somehow with Tosca because she's an artist too. And the artists are very sensitive, many times not understood. We have the strength to suffer, to receive the applauses. I find this state of mind in Adriana as I found it in Tosca. I met a lot of artists, I'm an artist too, and I noticed that we display a wide range of inner conflicts. You can feel that you're the saddest person on earth, that absolutely nobody loves you. We all feel this way at least once in a lifetime. There's also the opposite feeling, when you see everybody happy to see you, that they worship you. There are moments when I'm extremely happy and I can't hide that. All these shifts can be also found in characters. So these sentiments allow me to get dramatic. And Angela can be Tosca or Adriana Lecouvreur.
.
You talked about contradictions and how an artist is seen by the others. What is the most frequent preconception people have about you?
They say I'm difficult. And moody. Because when they say "diva", they say "difficult". First of all I'm an artist, a very well known person. I'm very optimistic. These negative things don't fit my personality. And I suffer a lot when I notice that people see in me exactly the opposite of who I am. I have different nicknames, I told you before. I have a long list.
Bonnie and Clyde, Draculette…
Yes. This led to two operas. Vladimir Cosma is writing an opera called "Bonnie and Clyde" and an American composer already wrote "Draculette". I take the positive and practical side of everything.
What if there would be an opera called "Angela"?
I would like that.
Who should compose it and who should perform the title role for the premiere?
I don't know. We all know the story of the famous Romanian soprano Hariclea Darcle whom Puccini wrote "Tosca" for. He thought of her when writing. When she told him "I'm the main character and I need an aria", that moment one of the beautiful arias in the world,
Vissi d'arte
, was born. Great composers thought of an artist when writing. I know there are some composers that write thinking of my voice, such as the Italian Marco Tutino, and I feel very lucky. Vladimir Cosma composed "Marius et Fanny" thinking of me and Roberto. I want to tell you one thing. I still wait for the Romanian composers to buzz me, to insist to write something. Nobody said anything.
Maybe in the future.
Writing beautiful music is not old fashioned. Remember that people like beautiful things. So I'm still waiting for suggestions.
.
Last question: you have beauty, glory, fame; you have the audience that loves you and money, which is important too.
Yes, it helps me having a beautiful life.
Do you feel there's something missing in this moment?
What do you mean?
Do you feel accomplished, in peace with yourself?
I'm an optimist person. Speaking of accomplishments, I'm still on the way up. I still have dreams, wishes, I want to discover new things, I want to talk to you or to other people that want to know about me more. If I can share something of what God gave me, it is fine. We need to go on being happy. If I can enjoy my voice in the future, that's good. If not, I hope I can find other ways of happiness.
.