I never sing secretly!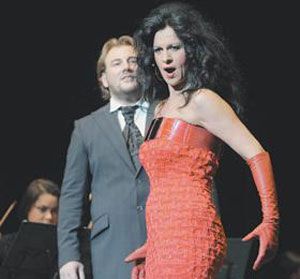 .
Back to Singapore - a new interview
When I thought it's becoming part of the past somebody published another interview related to the concert in Singapore, during the Sun Festival.
Ezra S.T.
published two articles in the online edition of
The Jakarta Post,
a newspaper from Indonesia.
.
First of them is an interview with Angela. She talkes a little bit about her future project, Adriana Lecouvreur at the Royal Opera House next season and more about recording Madama Butterfly. She said "my next role is Adriana". Well... what about Carmen at the Met?!?
You can read the interview on the
newspaper's website
or below.
.
It is not a daily privilege for us to have the opportunity watching great soprano performance in this region. This year, we had a chance to have some great international artists performing at the Singapore Sun Festival. One of them is Angela Gheorghiu - a soprano diva widely known for her singing power, great acts on stage and also for being unpredictable. Below is a brief talk with Angela before the opera gala.


It has been quite a long way since your first time singing Grieg's "Solveig's Song" until becoming who you are now: the Diva of Opera. Do you ever think to do something if you are not doing opera?

Never ever! Never have I believed *not even a second* that I could do something else or that I could have become anybody else than an opera singer or "the Diva of Opera", as you are calling me. I only know that I was born with a "voice" and that I started studying since I was 14. It was not easy during the most awful communist dictatorship in Romania. But my family, my professors and the Romanian public have always given me the power to believe in my future. I actually started my career when I was in school.
.
Do you have any other particular character or opera that you really love to play?

My next role will be Adriana Lecouvreur in a new production in the Royal Opera House Covent Garden. The role is fascinating! Adriana is an artist like me, like Tosca... I think I know very well what this means. But I am just beginning a tour with a lot of concerts. I do like concerts very much. In Singapore I will be accompanied by the tenor Marius Manea, whom I discovered in Romania, "the country of great sopranos".
.


Congratulations on the launching of your new CD Madame Butterfly. Could you share a bit the story behind this recording?

I discovered tenor Jonas Kaufmann while he was still singing at the Zurich Opera. My manager Jack Mastroianni showed me a DVD with the opera "Nina Pazza Per Amore" and he impressed me. I was actually looking for a tenor in two of my productions: for "La Rondine" in Covent Garden and "La Traviata" at the MET. Then I recommended him to these theaters, later even to La Scala in Milan and they accepted him. He made incredible debuts everywhere, having real success, being a very gifted and complex artist. Then I had the idea of recording an integral opera in studio together with Jonas. At the beginning the people from EMI Classics were suspicious, but now everybody thanks me for my choice and is very pleased. I am very proud of him and I do think that this "Madame Butterfly", conducted by my good friend and by the great conductor of our times Tony Pappano, is one of the most spectacular discographic achievements in the last years, together with all the records realized with DECCA and Emi Classics with "the tenor of our times", Roberto Alagna.
.


Is this your first time visiting Singapore?

Had I come to Singapore earlier you would have heard about it. I never sing secretly.
.
The other article, entitled
"Three days of fantastic classics"
is a review of the festival with several details about the Gala Concert with Angela Gheorghiu and Marius Manea.
.
For the opera gala finale to the classical music in this year's festival, IMG Artists (the event organizer) decided to host the controversial diva soprano Angela Gheorghiu. This Romanian superstar became an overnight sensation when she portrayed the role of Violetta from Verdi's famous La Traviata, in 1994 at the Royal Opera House in Covent Garden, the UK. Known as a singer who can sing with the power of a hurricane, Angela's voice is so remarkable that brought Sir Georg Solti to tears.
.
Chosen as the star of the opera gala this year, Angela was accompanied by fellow Romanian tenor Marius Manea, as well as The Netherlands Radio Philharmonic Orchestra conducted by Italian conductor Paolo Olmi.
.
Though we knew little about tenor Marius Manea, he blew us away with his solos and duets with Angela. In particular, during his aria "Quando Le Sere Al Placido" from Verdi's Luisa Miller, Marius showed us his great vocal technique as well as his range in singing.
.
For a Romanian singer, he has an Italian sound, and uses the technique similar to the late Pavarotti and Domingo.
.
Angela herself gave a remarkable stage performance as Cio-Cio-San singing Puccini's timeless "Un Bel Di Vedremo" from Madame Butterfly that was truly moving and heartfelt. The opera gala was supposed to end with another of Puccini's lovely duets; "O Suave Fanciulla" from La Boheme, but the standing ovation was nonstop and demanded more. And, guess what: The encore came not only one or twice, but five times! It was almost like a third session instead of an encore.
.
The Singapore Sun Festival 2009 opera gala finally ended with its last encore that followed the tradition of great opera highlight concerts by performing "Libiamo", an aria from Verdi's La Traviata, also known as "The Champagne Song".