Manon released again by EMI in "The Home of Opera Collection"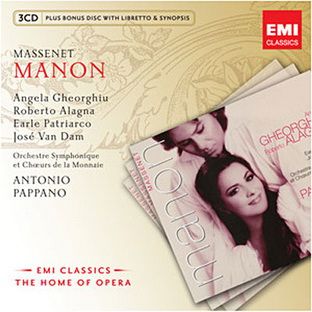 .
EMI's second important project, after "Great Classical Recordings" that I talked about a few weeks ago (Puccini: opera arias is part of this) is
EMI Classics - The Home of Opera
described as "treasures from the world's greatest collection of recorded opera". All these CDs have been previously released. The difference is that each CD multipack contains a
new printed introduction in English, German, French and Spanish and a bonus disc containing synopsis and libretto with translations
. If you prefer to buy on iTunes, you can download the full programme notes and libretto in pdf format.
.
Among them there is
Manon
by Massenet, with Anglea Gheorghiu and Roberto Alagna, originally released in 2000. More details about the CD can be found
HERE
.
.
.
Manon - ANGELA GHEORGHIU
Le Chevalier Des Grieux - ROBERTO ALAGNA
Lescaut - EARLE PATRIARCO
Le Comte des Grieux - JOSE VAN DAM
Guillot de Morfontaine - GILLES RAGON
De Brétigny - NICOLAS RIVENQ
Poussette - ANNA MARIA PANZARELLA
Javotte - SOPHIE KOCH
Rosette - SUSANNE SCHIMMACK
L'hótelier - NICOLAS CAVALLIER
.
It was already released in
UK
(on March 8th),
Germany
(March 12th) and
USA
(on March 9th) and it will be released in
France
(on March 20th).
.
You can by it from: