People are twitting: Angela won! Long live opera, our dear diva and the Internet itself...
UPDATE: I persuaded the person behind EMI Classics Twitter page to tell me what Angela sung. It was Un Bel Di from Madama Butterfly. And he/she said she was amazing. How else?
.
.
This is how EMI Classics and Classical Brits announced her winning the award :)
.
Live on Twitter? This was new to me. It's like seeing with somebody else's eyes. 3 people twitted live at the same time, on three different pages: EMI Classics, Classical Brits and Decca Records. Waiting for those people to twit gave me butterflies in the stomach. Just because you don't have visual contact.
.
First award, Composer of the Year Award is: Thomas Adès for "The Tempest". Second award, Young British Classical Performer or Group Award is: Jack Liebeck. Third award, Soundtrack of the Year Award is: Thomas Newman for "Revolutionary Road" Official Soundtrack - first US. And finally Classical Brits says: Female Artist of the Year Award is: Angela Gheorghiu for "Puccini/Madama Butterfly"
.
She also performed one song before receiving the award. For the moment I couldn't find out what because everybody is busy texting, I guess. But on the other hand, let them do that. Because besides texting there's somebody taking photos.
.
Here's Angela coming at Brit Awards. Photo via EMI Classics Twitter page
.
Angela Gheorghiu in the media room after being named Female Artist of the Year
.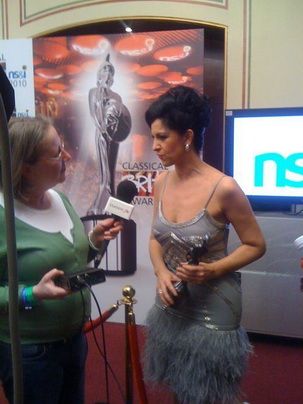 .
Rolando Villazon sung "The Tales of Hoffman – Ballad of Kleinzachi" and Bryn Terfel performed "Tre Sbirri, Una Carrozza" from Tosca.
.
Back to Twitter :)
.