The Star of Romania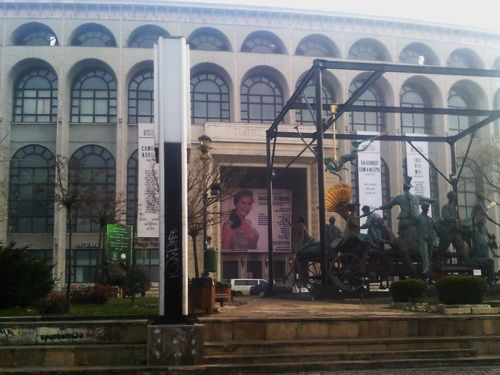 The facade of National Theatre in Bucharest, with the banner of the concert
.
When announcing the gala concert at the National Theatre, there was a press release announcing the event. It said something like this "On the occasion of receiving the Commander order of Star of Romania..."
.
This medal, the Star of Romania, is the highest and most important decoration awarded by the Romanian Government, to both civilians and militaries, in recognition of their merits. So, as you see, receiving this medal is huge.
.
.
Let me tell you a few things about it. The idea of the medal came up in 1864, but it was recognized by law in 1877, bearing the same name it has today, the Star of Romania. The model is a blue, double cross, never used before for medals in Romania. The motto of the order is "In Fide Salus", meaning "the salvation stays in faith". Since the beginning it has been awarded to civilians and militaries and there were a limited number of medals.
The order stopped to be awarded in 1948, but the Government brought it back in 1999, with a slight change in shape.
.
There are still a limited number of medals. In the case of civilians, people that get it did important things in art, science, medicine and so on. It is given both to Romanians and to foreigners.
.
For those attending the concert tonight, have a good time!
.
.